It's time for the June Portfolio update!
If you recall last month's update, you know that one of my larger sites got hit by the May 2022 Core Update. The Accessory Site lost about 30% of its traffic, and that really showed in the total numbers this month.
And to make things even worse, my Beauty Site (the largest site in my portfolio), suddenly got hit by an 80% traffic drop halfway through June.
So in 2 weeks, my largest 2 sites lost a really good chunk of their overall traffic, so this is the first month where the overall portfolio is going down instead of up.
My Strategy & Portfolio
I could talk for hours about my strategy and goals for my portfolio, but it boils down to this:
Do keyword research
Write a good-quality article
It really is that simple. I have two videos on my YouTube channel where I go over my keyword research methods (one free method and one method using KeywordChef), but in essence, I look for low competition keywords and questions that aren't answered properly.
From there, I either write the article myself or outsource it to my team, and the goal here is to give the best answer possible.
As for my portfolio, I currently own 6 websites:
English Beauty Site
English Accessory Site
English Consumption Site
English Home Site
Dutch Beauty Site
Dutch Boating Site
That's a lot of sites, and if I'm honest, it's a little too many. Currently, I just cannot keep all these sites up, but since they are all running profitable, I'll just leave them be for now.
The goal is to keep expanding the portfolio, but in order for that to happen, I need to build a solid team around me.
Total Traffic & Income Overview
Whereas May was a bit of a mixed bag, June was definitely a bit of a disappointing month. My 2 largest sites (and the only 2 that are actually making some decent money) both lost a good chunk of traffic and income.
In total, my portfolio is down 14% in income and down 20% in pageviews. That's the first month this year where the overall portfolio is going down instead of up.
Here's an overview of the total pageview levels for June 2022:
And here's an overview of June 2022 total income: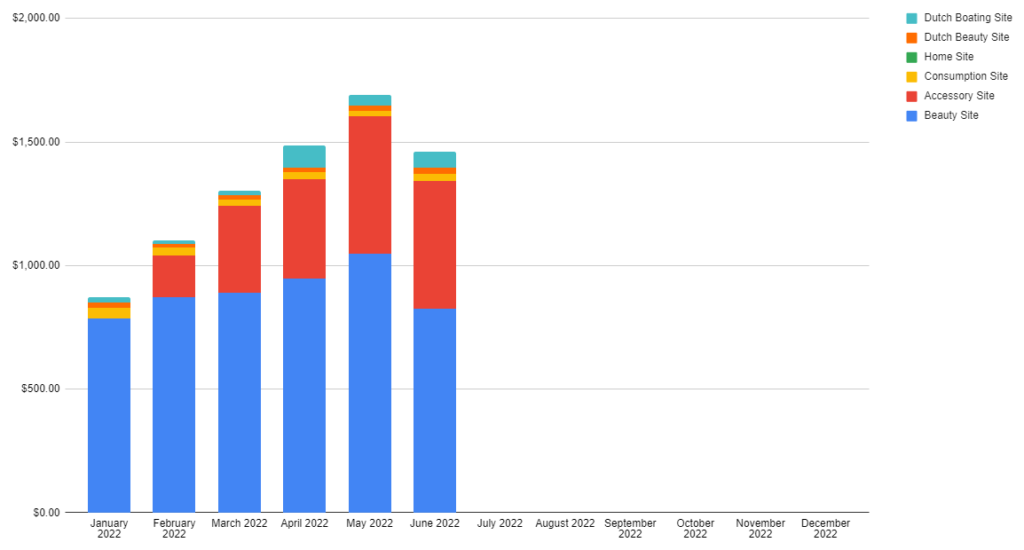 A bit disappointing to see. The Beauty Site, although it was a site I stopped working on, was still my main earner, so seeing it drop another 80% means that most of my income will be gone as well.
However, another drop won't stop me from trying to make things work. Also, early July showed me that 80% drops can be reverted as well!
Let's take a look at all sites individually!
Site #1 – Beauty
My Beauty Site is my oldest site that I started all the way back in December 2018. It's the first site I ever started and I grew it to about $8000 a month in just 2 years.
Everything was going great, and then a Google Update came along; the December 2020 Core Update:

I lost about 80% of my traffic, and that traffic never really recovered. Thanks to how large the site was, an 80% drop in traffic still meant I was getting about 30.000 pageviews a month. That 30.000 pageviews a month number stayed super consistent, until June 15, 2022: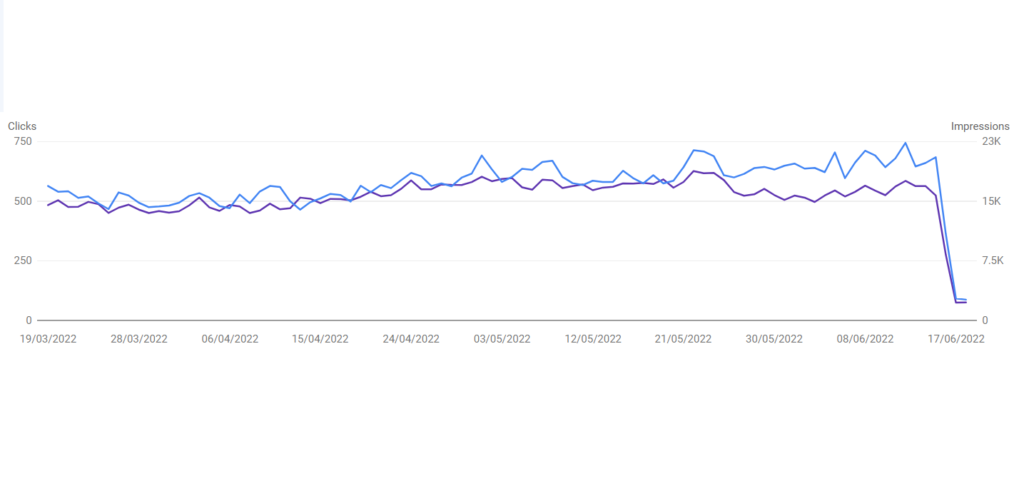 Yep, that's a different hit, both about 80%. It's pretty incredible to see how one site can get hit twice by such an insane drop. Normally, the site still pulled in some respectable numbers, both in pageviews and income, but this month, it slowed down a bit:

The income actually didn't drop all that much, but I think that has to do with the fact that June is the last month of a quarter.
Now for a little spoiler alert, the second 80% drop did actually bounce back a few days into July, so I'm hoping that July and August will give me more of that consistent 30.000 monthly pageviews.
The bulk of the income comes from Ad Thrive ads, and a little bit from Amazon Associates.
Normally, this is the part where I say that I don't really have any future plans for this site. However, I may want to try and revive it (even if it's only slightly) in the near future. I'll be making a plan in the coming days and will see if I can get this site back to higher numbers.
Site #2 – Accessory
The Accessory Site is a site that I started as a response to the aforementioned December 2020 Core Update. I started this site because it became apparent that I needed to diversify. I had all my eggs in one basket, and this site was supposed to be a new basket.
However, I quickly started to notice the effects of the core update on me personally. I was unmotivated, uninspired, and just couldn't get myself to work. The site also didn't really show any potential for a long while, so I even wrote this site off as another failure.
But then the site started to grow. It finally got out of the sandbox after like 12-13 months. Ever since then, the site was growing nicely and I've gradually been adding content. Until May, when the core update took away about 30% of the traffic.
As you can see, the June pageview numbers are down somewhat significantly, but the income has held its own. Only a small drop. I did add a couple of Amazon affiliate links, which made me an extra $25.
Of course, the plan is to keep writing for this site. I got a couple of orders for extra articles going on right now and am writing myself. In June the site finally reached 100 articles (after more than 1,5 years) and I plan to double that in the coming months.
Site #3 – Consumption
The Consumptions Site was started in September 2020 with the idea of turning it into the largest site of my portfolio. The overarching niche can house thousands of articles.
But, I think I bit off more than I could chew here. Back then, I was writing everything myself and I still had the Beauty Site going strong. So I quickly stopped working on the site, and to this day, there are only 40 articles on there.
I also wasn't the biggest fan of writing articles for this site either, for some reason. All of that combined led to me making the decision that this site is probably best off if I sold it. So, I started to prepare this site for an exit!
I started that process in January 2022, and by preparing it for an exit, I really just mean I started monetizing the site. I did that with Ezoic ads, and although the initial results were nice, I'm starting to get a little disappointed by the low RPMs.

Although June was the first month where I finally saw an increase in earnings, it once again had to do with the high end-of-quarter RPMs.
I still plan on selling this site, but I keep forgetting to actually get to that. I still need it to earn me a little more money so that I can at least break even on this site. After that, I will finally start to actually sell this site.
Site #4 – Home
The Home Website is a brand new site that I started in November 2021. I started the site to see how front-loading a website with a ton of articles would affect the sandbox period. Since this was a cool case study, I also follow this specific site and its progress on my YouTube channel.
I halted content production for this site because it was running into some indexing issues, but it seems like that's all fixed now! The way I fixed it was by simply changing my nameservers to Ezoic, and somehow, everything started to get indexed.
Now that everything is starting to get indexed, I hired a dedicated writer for this site. Pageviews are also growing nicely, so I'm overall pretty happy with this site.

I do want to say that I feel like it's growing slower than usual, but I should keep in mind that this site only started to get indexed in Google a couple of months ago. This site is about 6 months old, but the content is only indexed for about 3 months or so.
I'm excited to see where this site goes. I've regularly ordered content for this site during June, and I'm not planning to stop that anytime soon.
I'll get this site to at least 100 total articles in July, and I will assess the situation every month. I'm still not decided on what the future plans are for this site, but I'm debating a couple:
Hold and grow the site as-is.
Sell the site once it's earning decent money and lock in that profit.
Redirect the site into a new domain that covers a much, much larger niche and build this site into a giant.
Dutch Site #1 – Beauty
As a Dutch guy, it made sense to me to try and start a site in Dutch. I found that Dutch sites typically have way less competition, but also lower RPMs. I wanted to test that tradeoff and see whether or not it was worth it to start Dutch sites in the future.
So I started this site back in June 2019 and it's basically the Dutch version of the earlier discussed English Beauty Site. I didn't completely translate it, but I covered similar topics.
However, I quickly stopped writing for this site. The main reason behind that was that at the time, the Enligh Beauty Site was growing like crazy, and it just didn't make sense to write for this site as well.
So the site ended with only 22 articles. And that number really hasn't changed in the last few years. Still, this site does bring in some decent numbers:

In May I saw some sudden increases in pageviews, and in June it was no different. We landed at nearly the exact same number of pageviews when compared to May, so I'm happy.
The income did rise ever so slightly, but once again, that has everything to do with the end-of-quarter RPMs.
Dutch sites are in my opinion still a fantastic opportunity. I would definitely want to explore this unique option further, but I'll need to find a way on how to do that. I'm building a team of writers, but those are all English, so I would need to build 2 separate teams if I am ever going to start a serious Dutch portfolio.
Anyway, for now, I'll leave this site be. This site is funding itself and it earns me a little on the side, so I have no issues with the lower numbers here. I also don't think that I'll work on this site in the near future either, but who knows.
Dutch Site #2 – Boats
Since I was still interested in Dutch sites, I did start a second one, the Dutch Boating Site. I started this one in January 2020, but just like the other Dutch site, this project was quickly forgotten.
I did manage to publish 43 articles, but once again, that number hasn't changed in a couple of years.
Boating is of course a pretty seasonal topic. During the winter, this site pulls in low traffic numbers, but during the summer, those 43 articles push us into the 10.000 pageviews a month mark.

We're not there yet, but I'd say in the next month or so we may hit that 10.000 pageview number. Summertime is always exciting for this site, even if I don't really work for it anymore.
This month's income was also only Ezoic income, so everything is steadily rising here.
But just as with the Dutch Beauty Site, I really don't have any short term plans for this site. I would love to grow every site to its fullest potential, but I just don't have the time or the team to do that. Maybe in the future I will, but for now, I need to focus on the most important parts of the portfolio.
What Are The Plans Moving Forward
June has been a bit of a letdown. The Accessory Site was down 30%, the Beauty Site got hit by another 80% traffic drop, and I was personally feeling not that well for the most part. My doctor actually thinks I'm having some form of panic attacks/anxiety attacks.
With that in mind, I was going easy on myself this month, which lead to fewer articles being published. In July, I'll try to publish more. A lot more.
Of course, the long term plan is still the same:
Build up the Accessory Site and the Home Site to about 150 articles each.
Reassess from there.
Add articles to the sites in a ratio that equates to the site's growth.
Other than that, I'll have to prepare for the summer slump. July and August are notorious for being low and slow.
Everything That I Use
Content Services:
Courses:
Keyword Research Tools:
Hosting:
Themes:
Acabado (Comes free with Income School's Project 24)
Plugins: